Waterway Guide 2023 Cruising Guides
Source: Ed Tillett, Editor-in-Chief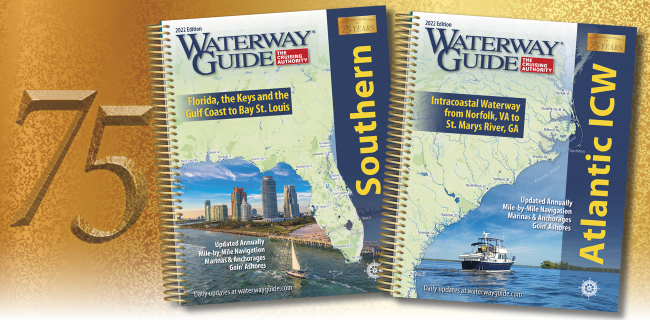 Celebrate Waterway Guide's 76 years with the two latest editions in our lineup of cruising and navigation guides. The 2023 Atlantic ICW and Southern editions have arrived from the printer just in time for the holidays full of new chartlets, piloting advice, and updates on our anchorages, marinas and destinations.
The 2023 editions of our books contain hundreds of pages of details gleaned from our on-the-water cruising editors and staff experts who provide advice and local knowledge.
Updated annually, Waterway Guide Great Lakes  edition is the indispensable cruising companion for boaters exploring the Great Lakes and the inland portions of America's Great Loop from New York to the Great Lakes and from Chicago to the Gulf of Mexico.
Waterway Guide Northern  edition is the indispensable cruising companion for boaters exploring the Atlantic coast from Cape May through Maine, as well as the Hudson River, Long Island Sound and Cape Cod Bay.
The latest releases join Chesapeake Bay, Atlantic Intracoastal Waterway, Southern, Bahamas and Cuba in the company's  lineup of cruising guide editions.
Retailing for $44.95, the guides are available from the Waterway Guide web site and from marine stores and booksellers throughout America's waterways. The site's Waterway Explorer also provides an extensive toolbox for cruisers including: Navigation Alerts, Marinas, Anchorages, destinations and fuel prices. It also offers charting views of NOAA, Navionics, Fugawi, Satellite and Street modes all in one convenient, intuitive page.
All Waterway Guide editions are published annually. These are the quintessential resources for boaters exploring the waterways of the U.S. The books are designed, authored and produced by Waterway Guide editorial staff with contributions from on-the-water cruising editors and boaters throughout the coverage areas.
Each edition of the Waterway Guide features:
Mile-by-mile navigation information
Aerial photographs with marked routes
Marina listings and locater charts using the latest NOAA data
GPS waypoints
Anchorage locations and information
Photography of waterways, ports and attractions
"Goin' Ashore" guidance for communities, towns and cities
A "Skippers Handbook" with bridge and lock schedules, distance charts, tide tables,
rules of the road and weather tips
Quick-reference icons for marinas, anchorages and navigation alerts, which match the online Waterway Guide Explorer planning tool
"We are fortunate to have one of the strongest teams in the industry," said Editor-in-Chief Ed Tillett. "Our readers and sponsors work with our editors and writers to keep us front and center as the cruising authority with new photos, updated chartlets and revised local knowledge throughout. These latest guides are exceptional editions."
Waterway Guide was founded in 1947 and is the longest continuously published series of cruising guides in the U.S. Content is updated daily at waterwayguide.com. Skipper Bob Publications, a series of guide books for boaters, is also owned and published by Waterway Guide Media, LLC.