MarineXchange buys, sells, and provides brokerage services for many brands and models of pre-owned boats. Our business is always on the look-out for high quality, well maintained boats. We pride ourselves on offering good value on everything we sell.
David Stevenson has been selling new and used Boston Whalers for over 25 years, and specializes in handling most boat sales at MarineXchange, while managing the Whaler Connection, offering resources and services for current owners and those seeking to join the family of Boston Whaler owners.
In addition to selling high quality, well maintained, pre-owned boats you'll find an occasional "as is" special deal on boats, motors, and other marine-related items in our Bargain Corner.
About David Stevenson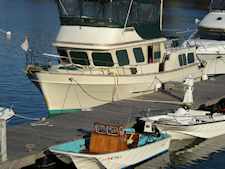 MarineXChange and the Whaler Conncection are operated by David Stevenson. In season, David lives locally in Kittery aboard his 40? trawler the "Ocean Ray" with his daughter. He has been messing around on boats since the age of 7, involved in the marine business for over thirty years, and still loves it!
When not buying and selling boats, he can be found captaining one vessel, or scuba diving from another. He has also enjoyed many hours introducing first time boaters to this fantastic pastime.